Here we are today, 8th August 2016 at Jed's wake.
There are 7.4 billion on the planet. Every day good people die, and they will be missed. So, what makes Jed's life and death something more significant than just being one out of so many?
Because, I think that in all the billions of the people on the planet there are a few – small in number – who really do have a lasting and widespread influence.
Perhaps I can start b

y showing you a magazine "cover"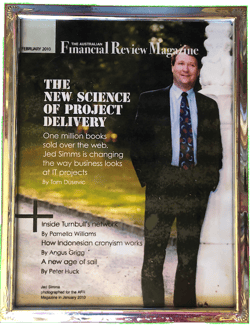 I made for it for Jeds's birthday in 2005 and it looked forward 5 years to the future in 2010. It says,
"The new science of project delivery – Jed Simms is changing how the world manages projects
1 million copies sold…"
What kind of a person is willing to stick his head over the parapet and say to the global project fraternity, which Jed used to say behaves precisely like religion,
"Actually Guys – you have got it wrong!"
Jed started his journey in the late '80s by asking a simple question
"When we have some of the brightest people on the planet working on projects – why are the results so poor? And why btw have they not improved now, in more than 30 years?"
The success stats for projects are not good, and it was clear that a fundamental rethink was needed. That is what Jed has been working on for the last three decades.
What made Jed uniquely qualified to take on the "Projects Religion"?
Jed had an outstanding mind – unquestionably he was in the top one-percentile for brain-power
He was an INTJ – one of the rarest MBTI types – less than 1% of the population in the world – they are the most gifted of all the systematic thinkers
He was a theologian (who did not btw believe in organised religion – apart from soccer), but his theological training taught him the structure of thinking as a discipline
- "it taught us how to think, not what to think",
- he was immensely proud of the Distinction he received for his essay on The Evidence against the Resurrection, from the professor who had just published his book on The Evidence FOR the Resurrection; the Prof didn't agree with Jed's conclusions, but liked the arguments!

Jed was very impartial (except when it came to soccer)
He was very ego-less – he would talk to everyone and listen carefully to their point of view – Chief Executive and homeless person alike – an idea didn't come with a halo or horns just because of who it came from
He never ever lost his temper - well maybe once that I can recall.
Jed could touch-type astonishingly fast (85+wpm). He easily outpaced all his secretaries, and rattled off pages of copy in a day.
He hated waste of any sort - my own habits leaving lights on used to infuriate him, and he would pull leftovers out of the fridge to eat that would horrify any of the modern generation who believe use-by dates are something to pay attention to
But most of all, he hated the big-name consulting model – whereby the heroes and gurus would go into a company – charge a shitload of money, "borrow the client's watch and tell them the time" and then decamp, leaving a mess behind for the frontline staff to fix.
So the vision about what we wanted to achieve
When Jed & I wrote down what we wanted to achieve with TOP:
Most of all, it was about creating knowledge and tools that staff at all levels in an organisation could use,
And that the staff could learn to do the same as what Jed - as a top-flight strategy consultant - had learnt to do in over 40 years of helping organisations get results.
Over many years, every time we did client work, we then documented our thinking process and the techniques. Every assignment we did, we taught the staff how to do the work. And we left the team confident to go on and use the tools.
We also had to develop – not just the tools but all the accelerated thinking & learning principles that underpinned them – so that we could teach people to do something in a morning and have it stay sticky.
To give you a sense of the scale of what we were working on with TOP: there is a puzzle Einstein posed which he said that 98% of the population could not solve. But once people learnt the accelerated learning techniques that we built into TOP, they could solve it easily.
And we had to create the models and concepts to show people why project management didn't matter but why other things did:
"What are we trying to achieve" and "what does the future look like when it's all working just right",
What is the path dependency,
Why sequencing is more critical than priority.
So as opposed to the "rape and pillage" consulting practices (as Jed described them), Jed was about "giving people the watch" and teaching them how to tell the time and then how to build new watches when they needed.
TOP is enormously ambitious in scope, scale and impact. We are so close to finishing; by my reckoning, we are 87.75% done.
When you take on something this big – it's not easy.
It's not easy anyway to do something this big and this global – when you are fighting a religion.
As theologian, Jed loved to play with the religion metaphor. He described the current "orthodox" project methods as "dogma". We were the "heretics. Our marketing strategy was to collect "evangelists" to help us spread the word. Jed joked we were the "prophets who hath no honour" helping our clients have "epiphanies".
In the middle of trying to do something so big, there were so many trials over the years – not just with the business but also with other things. Some of you know the stories of those trials. I won't elaborate here except to say that any one of them would be good fodder for a Sixty Minutes feature – and we seemed to have about five of them one after the other.
But Jed never wavered – and neither did I – in believing that we were creating something of value.
"Failure is not an option."
The challenge of continually reinvesting in the business as well as doing work to fund it – was enormous and enormously tiring. When working on client work – the pace with which we used to work was astonishing. Sometimes the client staff got so tired they sent us away - "come back in a week". Every asset that Jed has is now vested in the business – and the same for me too.
Let me tell you the story of this little plant here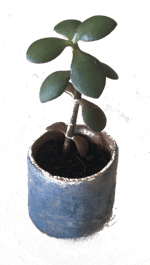 A sad neglected succulent which sat on the ledge in my office, it died completely leaving only one single shrivelled leaf. With some tender care, that single leaf sprouted roots. It started to grow taller. As the plant grew, it shed a leaf – which created another new plant. This plant symbolised for us what was happening - that we were slowly growing the shoots that would turn into the giant tree and then a forest.
2016, in particular, has been full of steps forward and back – my car was written off – but I ended up via insurance money with a better one. Jed's illness triggered the search for a better accommodation so that he could be nursed through his chemo cycles with better home working space for us to work together, and room for Jed's boys to stay when they visited from overseas.
There was a clear sense that it was all coming together – and believe me, I know that many of you were (are) sceptical. We had been collecting the team of people who could help us make TOP grow. So many things came to fruition in days, after years of effort. I never doubted that Jed would come through his illness. He had plans!
Today, life feels like a car crash.
Some of you know that in 2007, I had a massive crash in Jed's car on the Calder Freeway (the undercarriage failed and disconnected). What saved my life was a tip I heard from an advanced driving instructor. In that suspended animation state between when the crash starts and finishes, when all is calm, the voice in my head said,
"Look to where you need to go, and everything will follow".
The last few weeks, in particular, have had a surreal suspended-time feel. But I also have the feeling that Jed has got the project plan in hand. As Julian, Austin, Rowan and I all worked to get Jed out of the hospital and then to get stuff done after he died, there have been so many weird coincidences and miracles.
Where I am going?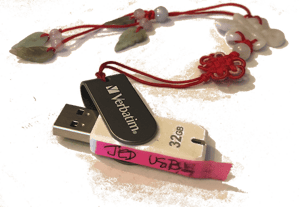 On the Thursday morning two days before he died, Jed gave me this USB-chip – and his instructions on my priorities – Value Equation, Project Governance, Strategy Alignment, Business case. I said to him, "You can't die – we're not finished", and he replied, "I know." Which was kind of typical of Jed – I used to describe him as the "Martha Stewart" for whom I was the "Omnimedia", doing everything that he didn't. We were very well matched intellectually – I used to joke we shared a brain split between two bodies.
So, once the dust settles, I have work to get on with and to do. Now my focus is on getting all the material out into the public domain as fast as possible. We have, amongst other things, a 300+ page book still to be published.
Will we get to the million in book sales? Yes, is the answer.
Finally
I would like to thank Jed's boys Julian Austin and Rowan. They got on planes to get back to Australia to be here with him and worked so hard to make Big Jed's last few days the best possible, and then got everything organised for today to celebrate his life. Jed was so immensely proud of his boys.
There are other people that I have to thank, and I will do that personally with each of you. I do wish to mention 79 year-old Henny who dropped everything to come over and work 14 hours on the day Jed came out of the hospital to get all ready for his return.
I will continue the work on TOP and unquestionably intend to turn TOP into the new project delivery religion. And to make all those doubters who said we would never create a global movement with TOP, eat their words.
Jed's life work will make a difference.
I hope I have answered the question as to why on a planet of billions
there is only one Jed Simms
which, by the way, a Google search will confirm.